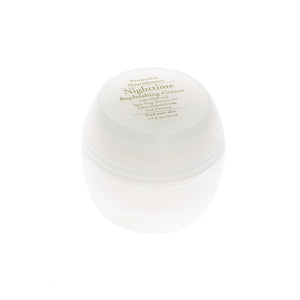 Protective Nourishment
Nighttime Replenishing Cream
Sale price Price $89.00 Regular price
Nighttime Replenishing Cream With EGF and spin trap concentrate.
Replenish, soothe, and regenerate the skin while reducing the appearance of wrinkles and dry skin with the Nighttime Replenishing Cream. It also aids with improving skin circulation and repairs skin texture while neutralizing free radicals and toxins. Increased moisture retention and regeneration of new skin cells gives the appearance of dramatically tighter, softer, radiant looking skin.
Recommended for all skin types.
Please store product in dry and cool areas. Due to the natural and paraben free ingredients, the cream must be used on a regular basis. 
1.7 oz/50 ml