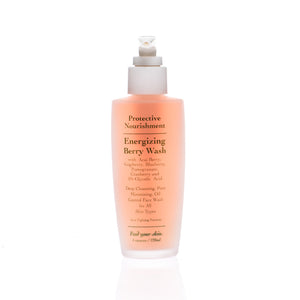 Protective Nourishment
Energizing Berry Wash *New and improved formula!*
Sale price Price $55.00 Regular price
Energizing Berry Wash with acai berry, goji berry, blueberry, pomegrante, cranberry, and 5% Glycolic Acid to deep cleanse and minimize pores.
Our best selling cleanser. Nourish and purify your skin while tightening and smoothing as you cleanse. Fruits with vital source of vitamins and detoxifying agents were selected and combined with 5 % Glycolic Acid for smoother skin renewal. Skin will look and feel refreshed and brighter. The Energizing Berry Wash provides a clean palette for quick absorption of Protective Nourishment's anti-aging serums and moisturizers.
Now enhanced with premium natural acids for tightening and brightening. The deep cleansing effect will melt away debris as it gently exfoliate the skin.
Choose from 2 size options. The 8 oz refill size comes without a pump and is intended for refills.